We may have hit the first day of spring on the calendar, but if you're anywhere but LA right now, chances are you're still sporting some layers. Next rainy day here and you can count me in—broody-chic 90's is the way to go when piling on the extras.
(1) First one's simple: throw a boat neck sweatshirt over a turtleneck, in two shades of grey, and roll up the sleeves. Bonus points for a bright coral lip.
(2) When in doubt, pile on the fur. And when the layers get too bulky, feel free to unbutton and fold over your pants.
(3) Gather your ingredients: silk collared shirt, long asymmetrical v-neck tank, loose silk pant. Combine. Button up to the neck and garnish with a bright lip.
(4) Squeeze into a cropped baby tee, over a printed silk button-down. Top it all off with a tailored jacket and a tapered cropped trouser.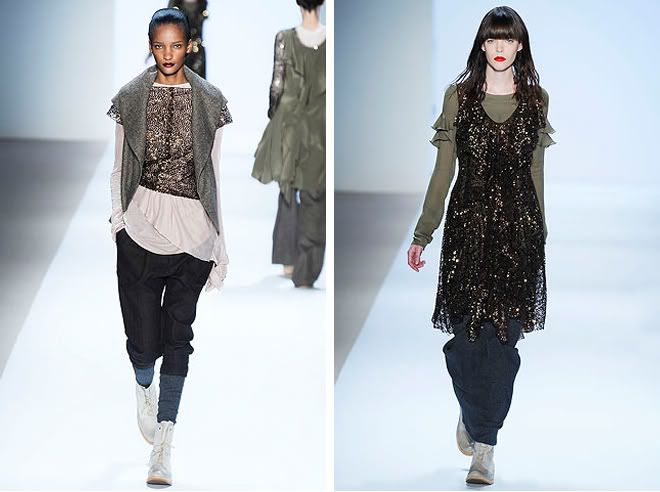 (5) Why not start with already-there layers? A draped layered long-sleeve is suddenly perfection topped with a sequined tee and grey knit vest.
(6) A dress over a long-sleeve may not seem like anything new, but look twice and see the knee-length sequined frock is actually glittering over a maxi? 90's grunge magnifique.
(7) Best way to maximize that printed dress you can't get enough of? Sneak peek it underneath a long turtleneck with a cardi on top, and wear it later that week alone. Now that's economic dressing. Your mother would be proud...
(8) Whoever thought a pretty, printed shirt, a dark bustier, a turtleneck tee and a harem pant were enough on their own, has never seen the digs of Richard Chai...